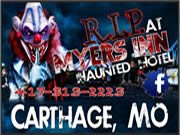 529 West Airport Drive
Carthage, MO
Featuring over 12,000 square feet of terror, the Myer's Inn Haunt is not for the faint of heart. Room after room of frightening fun, come face to face with the creepiest of creatures that lurk throughout!
Each room is uniquely themed and different from the next, complete with eerie hallways, darkness, strobe lights and macabre music. This is one hotel where you may not want to stay the night - that is, if you make it out alive!
Our waiting area offers seating and line entertainment, plus a horror movie that thrill seekers can watch while they await entry to the haunt.
Email Haunt Owner
Kids Day With No Actors - Dates TBD!
All photos and videos within this listing are the property of RIP at Myer's Inn Haunt
Email Verified

Awesome Experience

As we had heard that this is the best haunted house in town, we planned a college trip out here. It was real terrifying and totally different from all the other haunted houses. It was not small unlike the other places we have usually been. It was kind of spooky. We got in to the Maze which was complete dark but that was the real lifeline of this haunted house. The darkness created a sense of hauntedness in our hearts and we were sweating in fear. Great place with great people. I would be looking forward to come back and visit this place again.

| | |
| --- | --- |
| Scare Factor: | |
| Fun Factor: | |
| Haunt Value: | |

Posted November 2017

Email Verified

Good Experience

Relatively cheap, effective and definitely not over the top. You could take anyone, of any age group with you and still come out satisfied. Each room was well decorated, themed and filled with perfect lighting to create the spooky, creepy ambience. The actors were very good; they toned down their screams when they saw kids with us. Really appreciate the entire staff for their support.

| | |
| --- | --- |
| Scare Factor: | |
| Fun Factor: | |
| Haunt Value: | |

Posted November 2017

Absolutely Enjoyed

Well made, well setup and well performed. All of us absolutely enjoyed it and returned with a sore throat due to our continuous screaming's. Even while being extra cautious, we still couldn't help jumping and screaming out aloud at most of the scares, especially the corner ones. Well done team!

| | |
| --- | --- |
| Scare Factor: | |
| Fun Factor: | |
| Haunt Value: | |

Posted November 2017

RIP Fear

This is the best haunted place in town with the most reasonable pricing. We had to wait to get in to the Inn, where we were allowed to see a horror movie, so I guess; the movie was worth the wait. The waiting room was good. I must say it is a nice place for families to spend their evening; a spooky haunted house with ghosts around. I really got scared by the Tick-Tock girls there. I nearly screamed out so loud. But overall it was total fun and enjoyment.

| | |
| --- | --- |
| Scare Factor: | |
| Fun Factor: | |
| Haunt Value: | |

Posted October 2017

Bad Experience

Perhaps, they really need someone to educate them that we are their customers and they should be serving us, not the other way round. Forget the in-house shows and technical stuffs, when you have such a bad experience with the staff throughout, you wouldn't have an open-mind to enjoy anything.

| | |
| --- | --- |
| Scare Factor: | |
| Fun Factor: | |
| Haunt Value: | |

Posted October 2017

Indifferent

This haunted house was ok. I was scared at like 2 parts of this place. Every where else was just kinda meh? It wasn't the worst haunted house I've went to but it definitely wasn't the best.

Scare Factor:
Fun Factor:
Haunt Value:
Length of Event:
11-20 minutes
Time Visited:
5PM - 9PM
Would Recommend:
Unsure
Suitable For Kids:
Unsure

Posted October 2017

Email Verified

Horror Experience

It was the first horror experience for our 9 years old son. Thus, He was quite nervous, and I was bit worried. But he made it thru all the zones of horror and he even had his picture taken with Michel Myers and we bought him a jacket there. It was haunted, scary and amazing all at the same time. Good job by the team over there, we will defiantly be back again…..

| | |
| --- | --- |
| Scare Factor: | |
| Fun Factor: | |
| Haunt Value: | |

Posted October 2017

Email Verified

Very Scary

After hearing a lot about RIP at Myer`s Inn Haunt from my friends, I decided to go there, and I felt pretty good at the pace. It was very scary with the lights out and the glow sick to lead you through. The actors were performing on top of their game and the whole set up was horribly awesome. You may watch a scary movie as you wait for the entry. If you're a little scary at heart like me, but still love a good scare, you must mark this on the top of the list of spook houses to visit this year.

| | |
| --- | --- |
| Scare Factor: | |
| Fun Factor: | |
| Haunt Value: | |

Posted October 2017

Best Haunted House

I have to commit that this is by far the best local haunted house and the only one I really enjoyed going to. The place is awesome with a very good waiting room. The actors were very good in their attires friendly staff. I loved the walking with the mirrors in the beginning; a complete different set up. The Clowns in one of the rooms nearly scared us to death. Even the "Tent Tine" was awesome! The entire set up was fantabulous.

| | |
| --- | --- |
| Scare Factor: | |
| Fun Factor: | |
| Haunt Value: | |

Posted October 2017

Highly Impressed

I and my husband regularly visit haunted attractions in search of new adventures. This time we had visited RIP at Mayer`s Inn Haunt. It was an awesome place to feel the scariness. Though we waited for an hour, but it was worth it. We kept catching up new areas in the house and felt the horror at the high levels. Yes, it was by far one of the best places that we had gone to this year!!! Cool job done by all that put it together!!!

| | |
| --- | --- |
| Scare Factor: | |
| Fun Factor: | |
| Haunt Value: | |

Posted October 2017

Not Satisfied

We kind of liked a few scares, but it was more of an incomplete feeling. Lack of coordination and continuity is the main issue, we feel. The situations and themes were disjointed and the actors were more like roaming here and there, without a definite purpose. Their performances were fine, but they needed a good push. The place got the settings right, but the makers really need to put in some ideas to go through.

| | |
| --- | --- |
| Scare Factor: | |
| Fun Factor: | |
| Haunt Value: | |

Posted October 2017
All information on this page was submitted to Oklahoma Haunted Houses and was believed to be accurate at the time it was posted. Please report any inaccuracies
here
.